Thought Leadership
No Research Tab? No Sweat!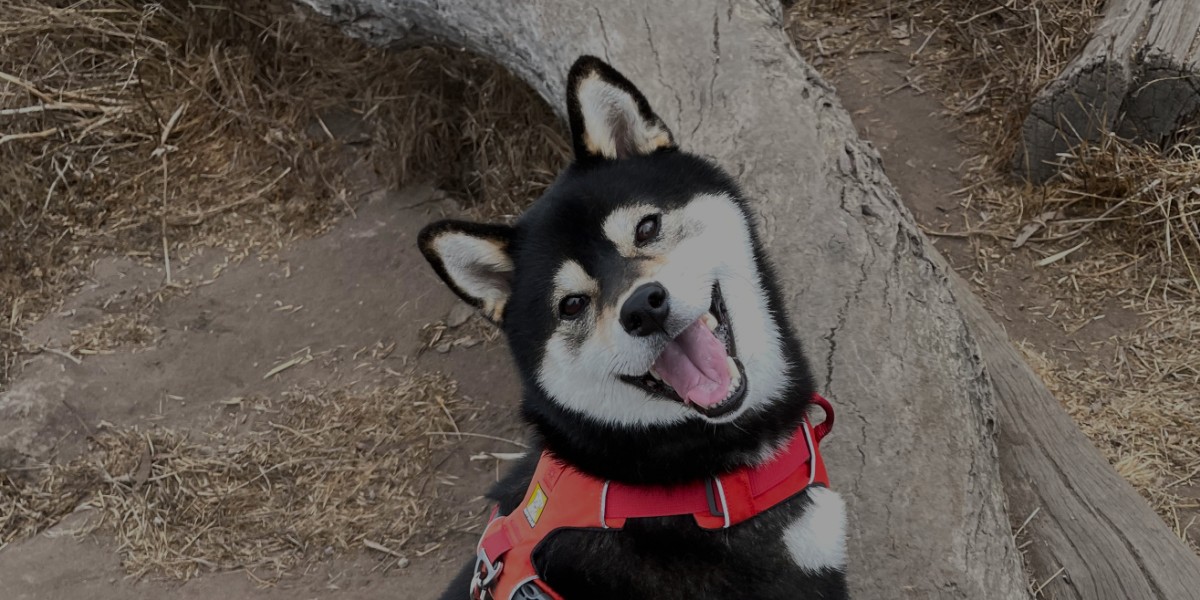 A piece on how to research and plan for channel content when you don't have access to the YouTube Research tab.
When I first saw YouTube rolling out its new "Research tab" to help creators research and plan content, two initial thoughts came to mind:
After sitting on a pile of data for decades, someone finally decided to make something useful with it!
This tool is more likely still in the testing phase, which means it's not fully rolled out, the features are limited and not 100% reliable.
And boy was I right. As of April 22, 2022, the "Research tab" is only available to use for English search terms, and limited to searches in 5 regions (Australia, Canada, United States, United Kingdom, and India). According to this YouTube Creator Insider video, YouTube plans to make this tool available for all creators by the end of April and they are working on adding more languages and regions. I got access to the "Research tab" via my dog's YouTube channel (Tiny Rick The Shibe - like and subscribe)! When writing this article and playing around with the tool (4/19-4/20), this tab seemed to be not loading for anyone who initially got access to it.
So, if you want to research and plan your content intelligently around YouTube's search algorithm but don't have access to the Research tab, you've come to the right place! Here are 5 simple steps to gain insights on what your audience and all YouTube viewers search across the platform (using Tiny Rick as an example, of course):
Step 1
From YouTube Studio > go to Analytics > from there you can filter out the top performing videos within a date range. Here's an example of the top performing videos in the most recent 90 days for Tiny Rick.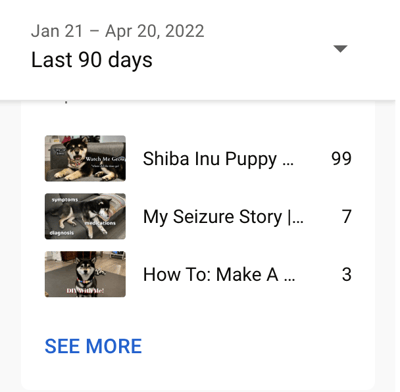 Step 2
From there, you can click into individual videos to look at the video analytics. Using the first video "Shiba Inu Puppy (8 weeks) to 1 Year" as an example, look at the "Top traffic sources" from the right panel. Almost half of the traffic is coming from YouTube search. This confirms the majority of the organic traffic is coming from YouTube search, and we definitely want to optimize certain topics and trends for viewers to find our videos.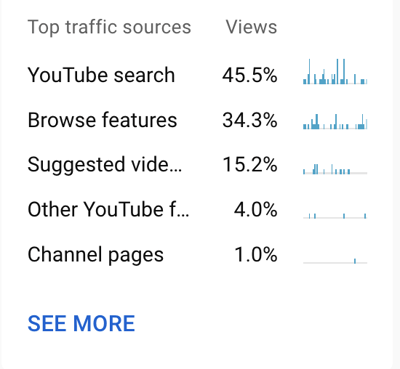 Step 3
From Video Analytics, click into the Reach tab. From there you can see the search terms that drove traffic to this video. Click on "See More". You can spot a content gap from the search term for topics that you haven't made a video on. In this example, we have yet to capture a shiba scream from Tiny Rick, so no video was made on shiba scream from our channel. But this indicates that people might search for "shiba scream" and want to see this type of content.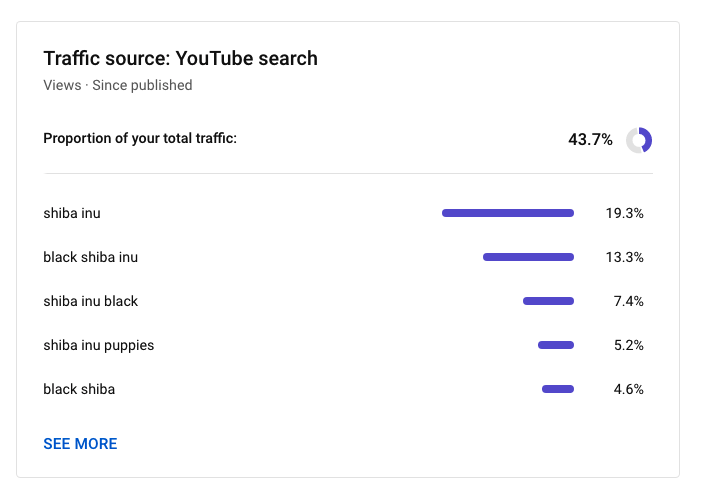 Step 4
Next, in incognito mode so as to not get biased results, type "shiba scream" in the YouTube search bar. From there you'll see the common search terms that people search for that type of content. That's already a lot of content ideas coming from the search bar!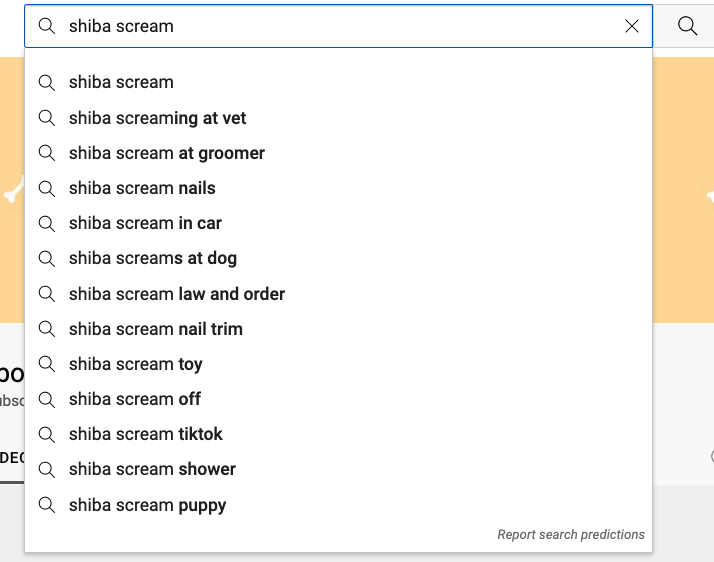 Step 5
And lastly, you can look at the videos that performed well, and plan your content around the more popular searches and videos. Pay attention to the thumbnails of the videos that got the most views. Do you see a pattern there?
You can also look at the "Traffic source: Suggested videos" section and spot any content gaps for videos/topics you haven't made a video about yet but are performing well on other similar channels. You can repeat the steps for searching for that topic in the YouTube search bar and see what keywords/phrases people are searching for, analyze the top performing content/channels, and plan your content accordingly.
Ultimately, the YouTube Research tab offers a simple starting point for content creators to discover content gaps to research, but you can easily reverse engineer the tool by using the existing features in YouTube studio. This will allow you to gain the same level of insights without being limited by the current language or region settings, or availability of the tool! This is one of the many strategic approaches our YouTube experts take to create a data driven programming approach to your YouTube channel. If you are a brand, entertainment company, or a creator and are interested in an audit, contact us here.
This Thought Leadership piece was written by Lizzie Wen, Head of Product at Little Dot Studios.