In February 2022 an expedition set sail seeking to locate the wreck of Endurance, the ship of famed polar explorer Sir Ernest Shackleton, which in 1915 sank beneath the icy Weddell Sea, off the coast of Antarctica.
WHY: THE CLIENT BRIEF
We worked with the expedition's organiser and funder, Falklands Maritime Heritage Trust, to deliver a strategy that created one of the biggest and most ambitious digital and social media campaigns around a historical project ever undertaken. The Trust wanted to reach diverse, global audiences at scale, including telling these well-trodden stories in new and interesting ways, especially for young people.
The expedition was led by polar explorer Dr John Shears, with Mensun Bound as Director of Exploration and Nico Vincent as Manager of Subsea Operations.
The project brought together various parts of Little Dot, including History Hit (an SVOD, social media and podcast service for history-lovers), our Network of owned-and-operated YouTube and social channels), Creative Production Services, Unscripted TV Development and Marketing and Press.
Our strategy included:
Social, podcast, SVOD, and email marketing coverage

Official collaboration with TikTok for them to amplify our content in-app




First ever TikTok live streams from the sea ice of Antarctica

Multiple highly successful podcasts, hundreds of pieces of social content, and all of it tailored to our individual audiences (e.g. on Earth Stories we only talk about the environmental angle, on History Hit just the historical angle, on Spark the engineering aspects… We found different routes in to the expedition for different audiences, something only possible because of the breadth of the LDS Network).

Coordinated social + traditional media & PR around announcement, creating a huge international news event

Collaboration with the expedition's education partners, Reach The World and the Royal Geographical Society (with IBG), to deliver a suite of short educational documentaries and to support delivery of content to their audiences of students and teachers.

As well as the team producing content for our owned platforms, we embedded a documentary film crew to capture the expedition for a potential longform film. We are now producing a major documentary for National Geographic Channels / Disney+. The film is being directed by Academy Award winners Chai Vasarhelyi and Jimmy Chin (Free Solo, The Rescue) and BAFTA-nominated Natalie Hewit (Surviving COVID, Antarctica: Ice Station Rescue) and is being

produced by Ruth Johnston (Summer of Soul) of Consequential LLC.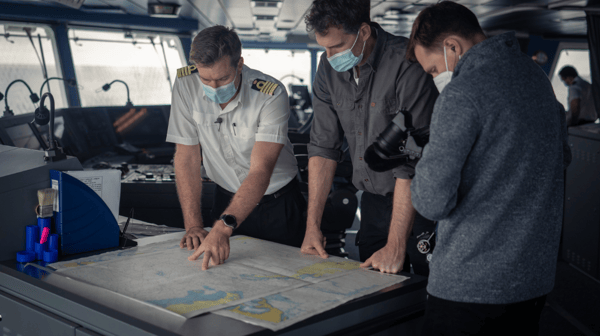 HOW: OUR STRATEGY / APPROACH TO THE PROBLEM
We sought to provide live and near-live coverage of all aspects of the expedition, and to distribute that coverage via our own network of online brands. We even partnered with TikTok for world-first live streams from the ice, promoted on TikTok's global 'Discover' hub to vast young audiences around the world.
We also ensured a multi-skilled team of documentary filmmakers and social media producers aboard - led by director Natalie Hewit - were able to document both in real time for social, and capture footage for the eventual long-form documentary.
WHAT: IDEA AND DELIVERABLES
Our breadth of coverage across myriad platforms, interest groups and demographics saw us deliver in excess of 500 individual pieces of content, culminating in a carefully-orchestrated and collaborative press, PR, and social campaign around the announcement of the discovery. We facilitated more than 40 broadcast interviews during the project.
01
Producing for all platforms
By shooting on everything from mobile phones to high-end TV cameras and drones, we were able to tell different stories, in different formats - everything from Instagram carousels to TikTok live streams, from SVOD documentaries to podcasts.
By devising content around the expedition that's tailored to each specific audience and platform, we could enthuse and inspire audiences in myriad ways.
02
Utilising the vast LDS network
We have ready-made audiences, growing all the time, across podcasts, web, and a vast social footprint. While History Hit was our 'master' brand for this project, we produced and distributed content on topics as varied as food, exercise, the environment, wildlife, science and technology, extreme travel, vehicles and engineering.
Our network covers far more than just history, and we love finding the right angle for the audience.
03
Refining as we go
As the expedition progressed, we were able to run a constant feedback loop with our audiences (both directly and via platform analytics), which allowed us to refine future content ideas, develop new topics to cover, and to ultimately provide a much fuller and richer level of coverage than we might otherwise have.
04
The Future: A doc for nat geo/disney+
The discovery of Endurance was global news - a rare good-news story during difficult times. Our documentary for Nat Geo / Disney+ will bring the fuller story of the incredible expedition to audiences far and wide.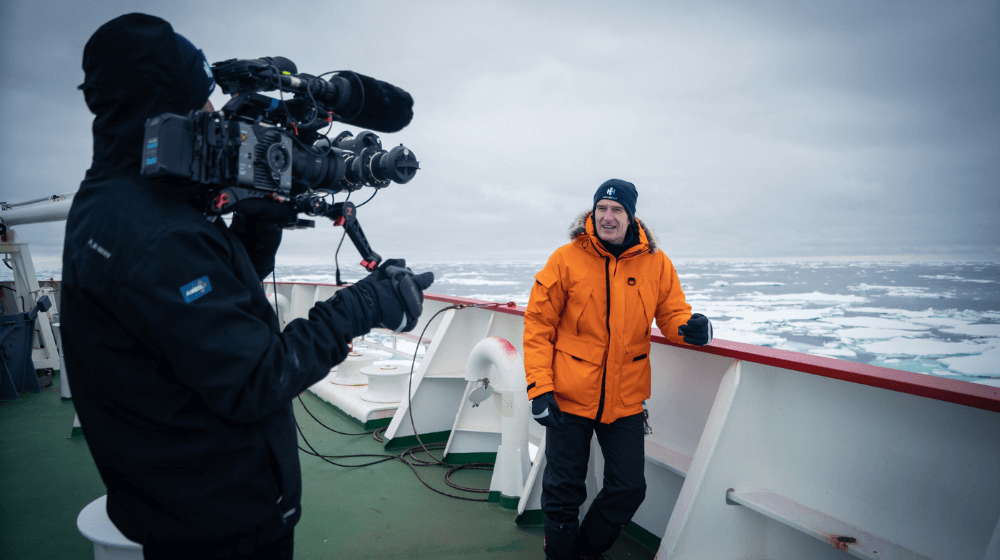 WE FOUND IT! THE FIND OF THE CENTURY
LDS & LDS's History Hit became the exclusive media partners to the Endurance22 expedition that saw a team of underwater archeologists, subsea search specialists, scientists, expedition experts and historians launch a mission to the Weddell Sea in Antarctica, in search of Sir Ernest Shackleton's Endurance, the famed lost ship from an expedition that would become one of the greatest survival stories ever told.
Supported by our production team back in the UK, we deployed a team of producers, filmmakers, and presenters, including renowned presenter and History Hit co-founder, Dan Snow MBE, and created over 500 pieces of content culminating in a carefully-orchestrated and collaborative press, PR, and social campaign around announcement of the discovery.
The content was distributed across our ready-made network of podcasts, web, TikTok, Facebook, YouTube, Twitter, and Instagram accounts (25million+ followers), resulting in over 29 million views and listens.
Additionally, Dan Snow's tweet about the discovery of the shipwreck reached over 10 million accounts across the platform!