At Little Dot Studios we realize the potential in every story.
What's less obvious is how meta that statement is. It turtles all the way down, baby. Of course, we tell stories the way you usually think about storytelling; top-flight original production, jaw-dropping creative edits of library content for our clients legendary IPs, and symphonic arrangement of those elements to weave the rich tapestry of culture and memes through the digital entertainment universe.
We also tell stories with data about the real world effects of the "actual" stories. I'm a Senior Channel Manager here at Little Dot and my job is to support a team of digital content stars who work behind the screens, bringing these stories to our audiences. One of the ways I do this is by helping them be the best storytellers they can be about their work.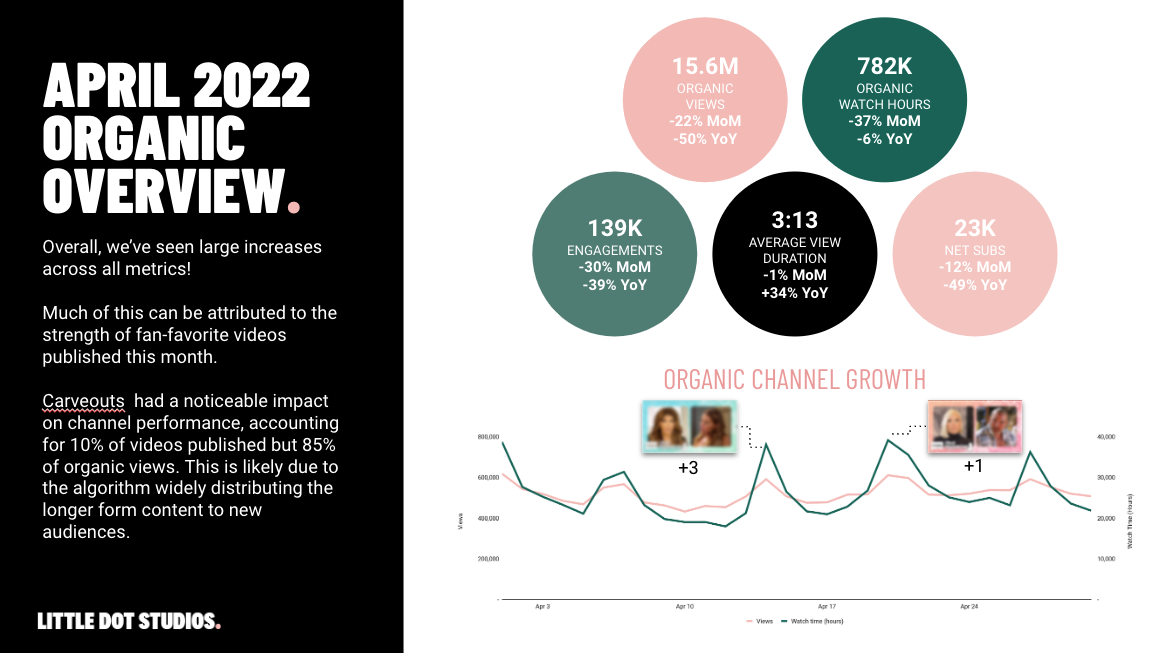 We are not the characters, however, the data is.
We're the narrators. People could look at the raw data themselves. What they want from us, is to tell them a story. How we do that isn't much different than writing a book, or creating a film. It's one of the things separating the service Little Dot provides from the crowd. We can weave a compelling arc that informs and engages. By extracting the story about what your IP is doing with audiences and putting a nice polish on it, we can captivate (in a business sense) and reduce the friction of understanding your content's performance and the strategy behind it.
We carefully construct the story's setting; content analytics and the ever evolving landscape of tools, reporting, platforms, and client needs. That's where our strength as storytellers comes from. World building! By studying the data, building charts, visualizations, case studies, and more, we can create what clients need: the setting for a story that advances their goals.
Every story needs a captivating opening to inspire curiosity.
In my opinion, few have done it better than Stephen King, as he began The Dark Tower; "The man in black fled across the desert, and the gunslinger followed." As you can see, it's virtually identical to, "Viewership doubled this month, AND click-through-rate increased by a full point …" But, the principles are the same. Set up the plot for the characters with a good hook, a hero's journey, and (hopefully) an exciting climax.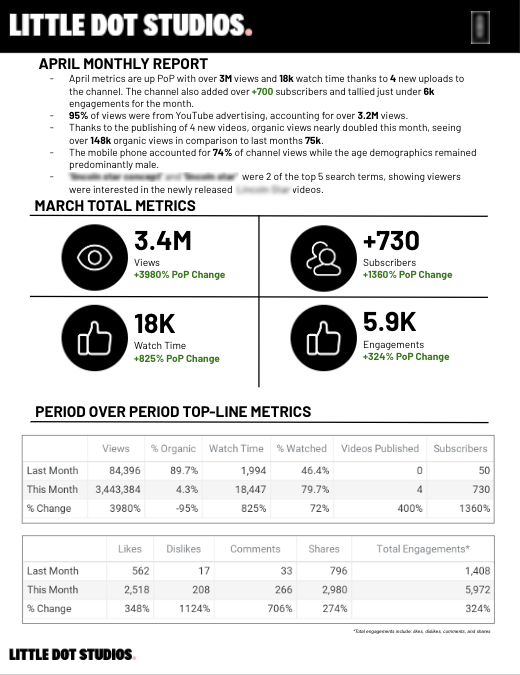 What we don't say when telling a story is just as important. We shouldn't leave random data or metrics laying around if they aren't going to pay off later. We try to be deliberate with what we present. If we aren't going to tie it into the story arc, it muddies the narrative and dilutes the message. We leave those numbers on the cutting room floor.
We start by setting the stage with an overview of the top line metrics–our main characters–and add some informative graphs to set the scene. Then we can talk about how the content offerings in a given period played into those metrics. We understand our client's business goals, so we can speak to how the KPIs they've chosen for their content relate to those goals–here are our themes. Then we can use these insights to project outward, reaching the climax of the report, and give actionable insights that the client can use to tie everything up with a satisfying denouement.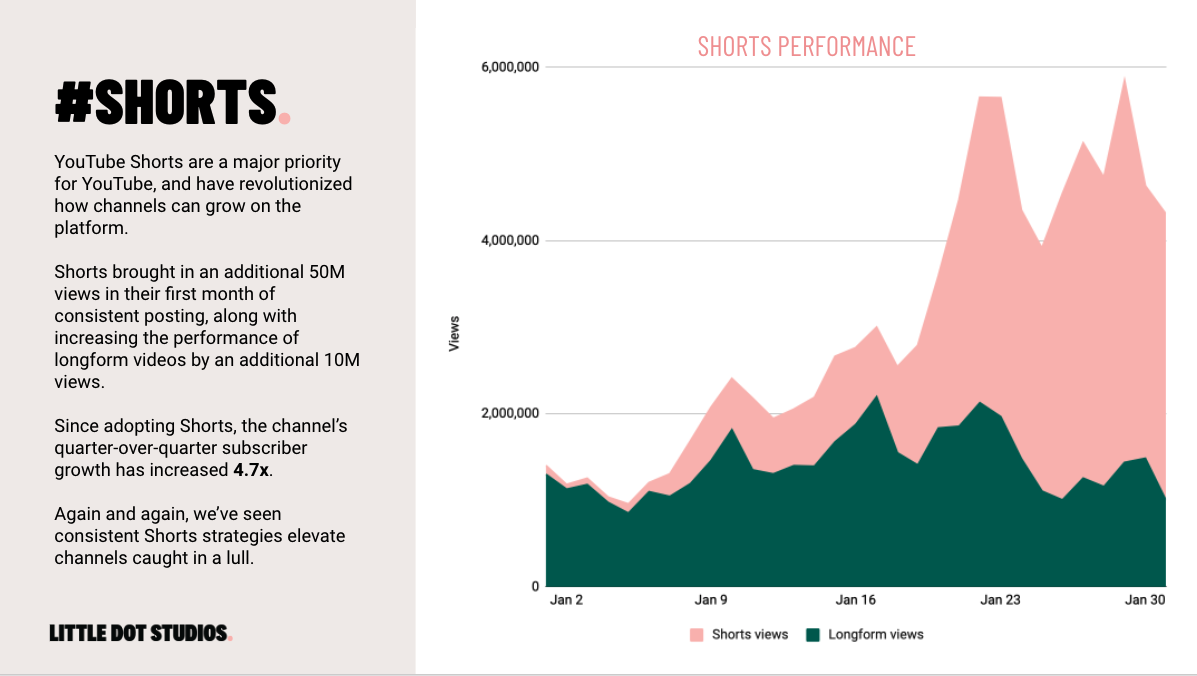 Having tactical, on the ground knowledge of best-practices as well as a 100,000-foot view of the analytics, gives us a framework for a great third-person point of view for the story we're telling. Is the client trying to grow their channel? Are they mostly concerned with executing a paid media strategy? Or, maybe they're trying to build brand affinity for their products (shameless plug: these are all things we do very well!). Knowing what the client is after is critical to your world-building process. Great storytelling keeps people engaged. It's primary in every level of what we do, and we love it.
We look forward to telling you a story that will take your content places it's never been.
This Thought Leadership piece was written by Kevin Daigle, Senior Channel Manager at Little Dot Studios.