Little Dot Studios have once again been placed 21st in the large employers category at the 2023 Best Workplaces Awards, and 1st in the Media Industry. This follows our success in the 2022 list in which we also ranked 21st and were also ranked as the 22nd best large employer, and 2nd Media Industry employer for Women!
Companies were selected based on employee survey results, and in-depth essay questions on processes, programmes, and company culture.
There are many things that make Little Dot Studios a good place to work: flexitime and hybrid working; profit share; enhanced family leave; regular employee socials and dedicated mental health support.
But none of these things make us a great place to work, and in today's job market they are often expected as standard. What does make us a great place to work, and one of the UK's best employers, is our open, collaborative, and people-focused culture that starts from the top.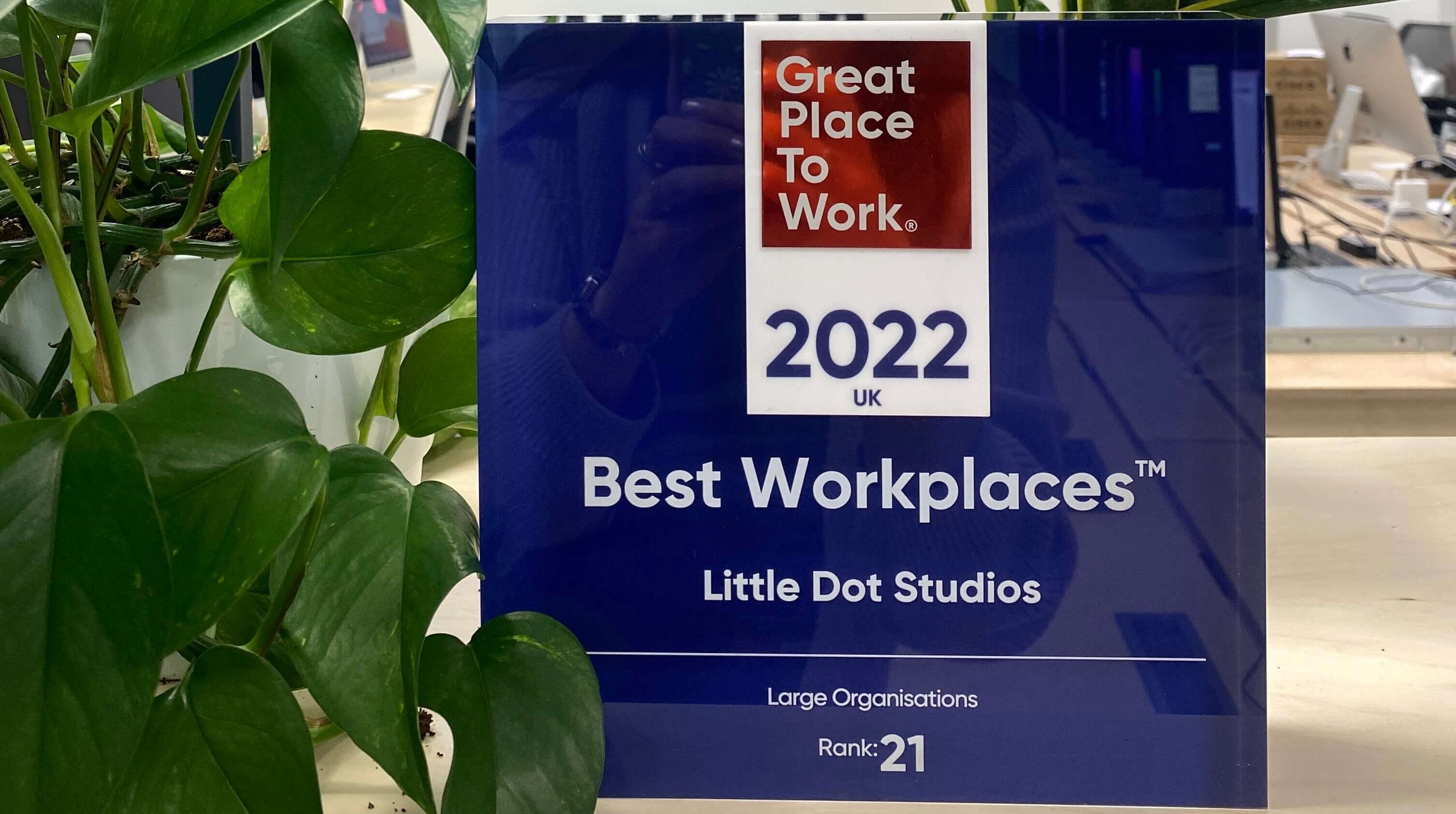 Communicating Openly
Despite exceptional headcount growth over the last 18 months, and acquiring our two sister companies WING and History Hit in 2020, we still maintain and foster an environment where the hierarchy is flat and the communication is open in a number of ways, including:
Quarterly Workbuzz surveys, that gather information on employee's perception of our leadership team and their overall satisfaction
Bi-monthly town halls where our CEO, Dan Jones, leads an "Any Questions Answered" segment. Employees can submit questions anonymously to put to the leadership team on quite literally anything - from pay and promotions, to bicycle parking and socialising. Nothing is off limits.
Having dedicated times and places to ask questions and raise creates an element of trust and transparency between all levels at Little Dot Studios.
Actions that have been taken as a result of these initiatives include: an increased base salary for our entry level roles (6.5% above our peers in the market and significantly above others) and more inline with London living costs; salary benchmarking amongst other agencies in the market; and an implementation of a social committee for teams to switch off and get to know each other outside of work.
Focusing on Diversity, Equity and Inclusion
We also have a focus on diversity, equity, and inclusion (DEI), committed to building a diverse and inclusive culture and team at every level, which encourages and values all voices. Our two key initiatives are:
Working in partnership with Project 23 - a specialist consultancy that collaborates with organisations to help them realise and implement long-term, robust DEI strategies
Committing to the Race at Work Charter - an initiative designed to improve outcomes for Black, Asian and minority ethnic employees in the UK
These initiatives will allow us to work towards our aims of 25% representation of employees from ethnically diverse backgrounds, and an equal gender balance across the business, including most senior staff, by the end of 2024.
You can read more about our DEI vision here.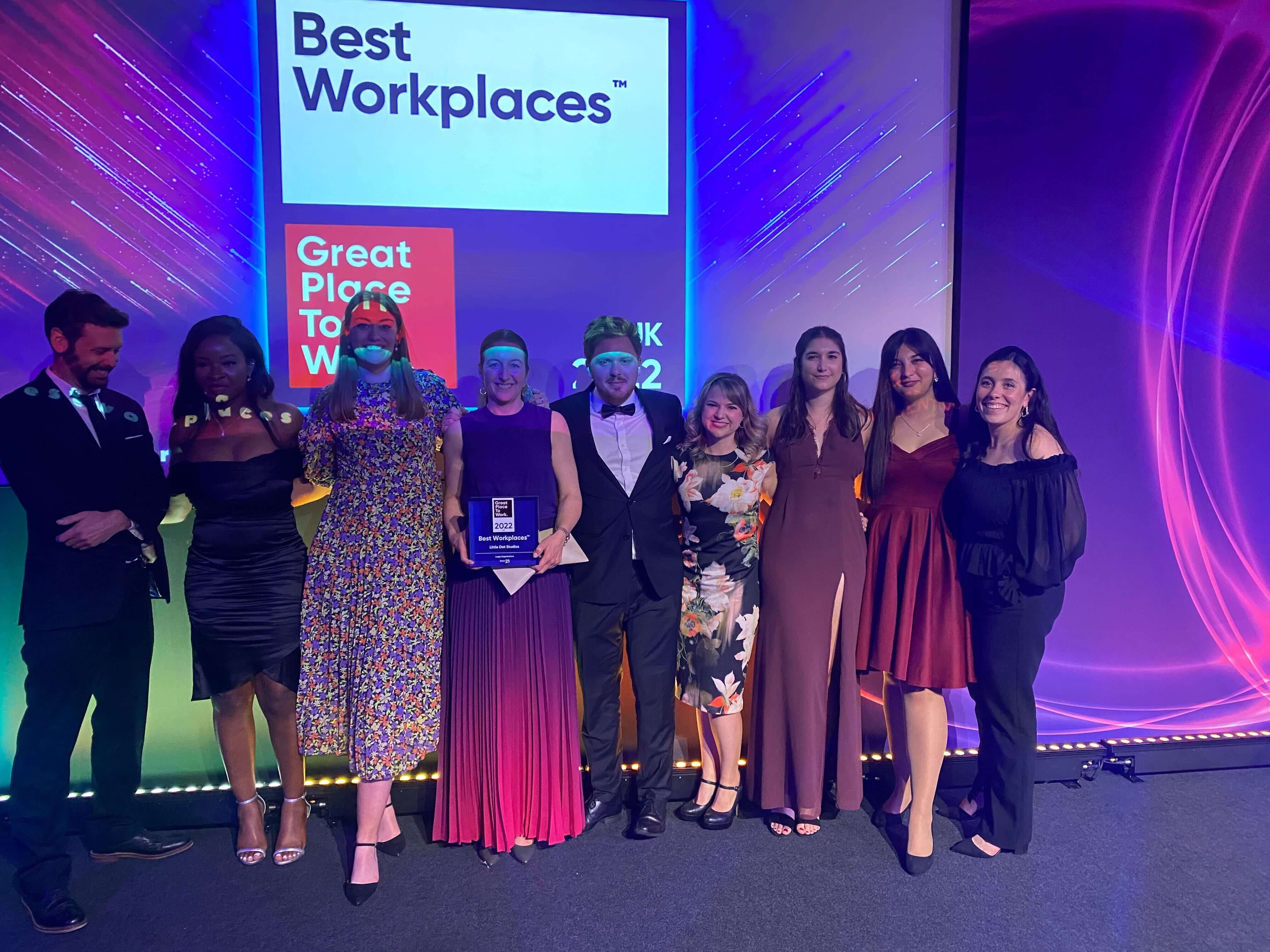 Working Sustainably
As a business, we understand the critical importance of working as sustainably as possible. At the start of 2022, we became Carbon Neutral to Future Net Zero standard across our organisational and operational output, and have increased offsetting efforts to account for our historical emissions backdating to 2013.
But our mission to do our part in tackling the climate crisis doesn't end there. We are:
Continually reevaluating our energy use and suppliers with the aim to move to 100% renewable energy
Continuing to reduce and recycle as much of our waste as possible via third parties and zero-to-landfill waste companies
Using the criteria and tools made available by Albert to certify our productions under the Albert Sustainable Production initiative
Introducing New Policies
Earlier this year, we introduced a series of new policies to better support our team that are not commonplace within our industry:
Gender neutral family leave: providing primary caregivers six months, and secondary caregivers two months, of full pay during the first year of their child's birth or adoption, giving employees the choice, flexibility and financial support to decide what is right for them
Menopause policy: recognising that menopause symptoms can be debilitating and empowering women to ask for adjustments to ease them without embarrassment or detrimental impacts to their jobs
Pregnancy loss policy: providing two weeks full for anyone that suffers a pregnancy loss, mother or partner, to help support our employees during what can be a frightening, lonely and traumatic experience
Helping Hand Fund: recognising that there will be times where our employees may face financial hardship, and giving them the opportunity to apply for an interest-free loan of up to £2,000
Ines Respini-Jones, Head of People, says: "We are delighted to be ranked in the top 25 best workplaces in the UK and lead the way in our sector. It's a real testament to all the hard work that has gone into creating an organisational culture that nurtures trust, connectivity and collaboration, which are anchored in our company values. A huge thank you goes to each and every Little Dotter makes our organisation a great place to work!"
2022: Following our success at the Great Place to Work Awards, which saw us rank 21st in the Large Companies category, we can now proudly say that we have also been recognised as one of the UK's Best Workplaces for Women, ranking as #2 in the Media sector overall!
2023: We are proud to announce that we have once again been ranked in the top 25 large employers at the 2023 Great Place to Work Awards, and continued to rank 1st in the Media Industry.
Check out the rankings here.
We strive to ensure that our workplace environment is one that creates fair access and advancement for all, and fosters a sense of value and empowerment in employees.
If you want to work for one of the UK's best workplaces, check out our latest jobs here: https://jobs.littledotstudios.com/