The 2022 FIFA World Cup is just around the corner. Arguably the largest event on the sporting calendar, millions of people around the world will be tuning in to cheer on their home nations and favourite players, for the ultimate football bragging rights.
But what if it was possible to predict who will take home the trophy? The talented Insights Team at Little Dot Studios have made it possible!
*Disclaimer: While the following prediction of the World Cup does follow good logic, we make no claims to guaranteeing the result and can't be held responsible for any actions taken off the back of this prediction.*
Rationale & Calculations
The core metrics to inform the data used in this prediction are:
Past World Cup Performance: used to measure how consistent a team has been throughout the last four world cups in regards to reaching a certain stage
Qualifying History: Measuring a team's consistency to reach a world cup
FIFA ranking: An up to date indicator of how well a team is performing leading up to a world cup

Odds:

Rank similar to FIFA rankings, but are also based on public perception.
The team decided on the above metrics in this prediction as they wanted to use the right mix of historical data and recent form of each team to give a more rounded, and accurate perception of each team.
The previous world cup performance and qualifying history cover the historical data, while the FIFA rankings and odds cover a team's recent form.
Below is a quick explanation of how everything was calculated, provided by our Insights team. Each metric used in this prediction needed a suitable, quantifiable means to be measured.
World Cup Performance: each team is awarded points relative to how they performed in the last 4 world cups (from 32 to 1), with 32 meaning they won, and then an average is taken from those scores to create the average performance at each tournament.

Qualifying Performance:

each team is awarded a percentile score based on how often they have been able to qualify for the last 4 world cups.
FIFA Rankings: the score for this is a 100th of the total average FIFA rank score each team has, based on the scores given out over the course of the year.
Odds: each team is awarded a percentile score based on the chance of the team winning the world cup according to the odds (taken on 6th October).
Once these four scores have been determined, they are combined to give a total. This total is their score within the prediction piece. The higher the score, the greater the teams chances. For example:
Uruguay received a total score of 33.84: 3.5 for their previous world cup performances, 7 for their qualifying performance, 16.34 for their FIFA rankings and 7 for their odds.
Spoiler: Uruguay are not predicted to win the 2022 World Cup based on our prediction model.
The Results
According to the data, Germany will be victorious at this year's world cup, with the highest overall score of 51.78. Thanks to their strong performances at previous world cups, an impressive qualifying run and consistent FIFA rankings, which were all some of the highest scoring in the 32 team dataset. Germany were closely followed by France, Spain and Brazil.
Brazil are the bookies' favourite to come out on top, being the only team to score 10 points for odds in the case study. The current chances of Brazil taking home the trophy are 4/1 (according to Sky Bet), followed by France at 6/1 and Argentina at 13/2 - who came 5th overall in this study.
Thanks to their performance at Euro 2020, England were one of the strongest teams according to FIFA rankings - with a ranking score of 17.44 England currently rank 5th in the FIFA rankings, however poor performance in previous world cups meant they were one of the weakest teams (in the top 10) in this category, with a score of 3.75. To put this into perspective, the previous 3 winners, Germany, France and Spain received 16.25, 13.25 and 9.25 respectively for previous world cup performance.
The top 10 teams by overall score can be seen below: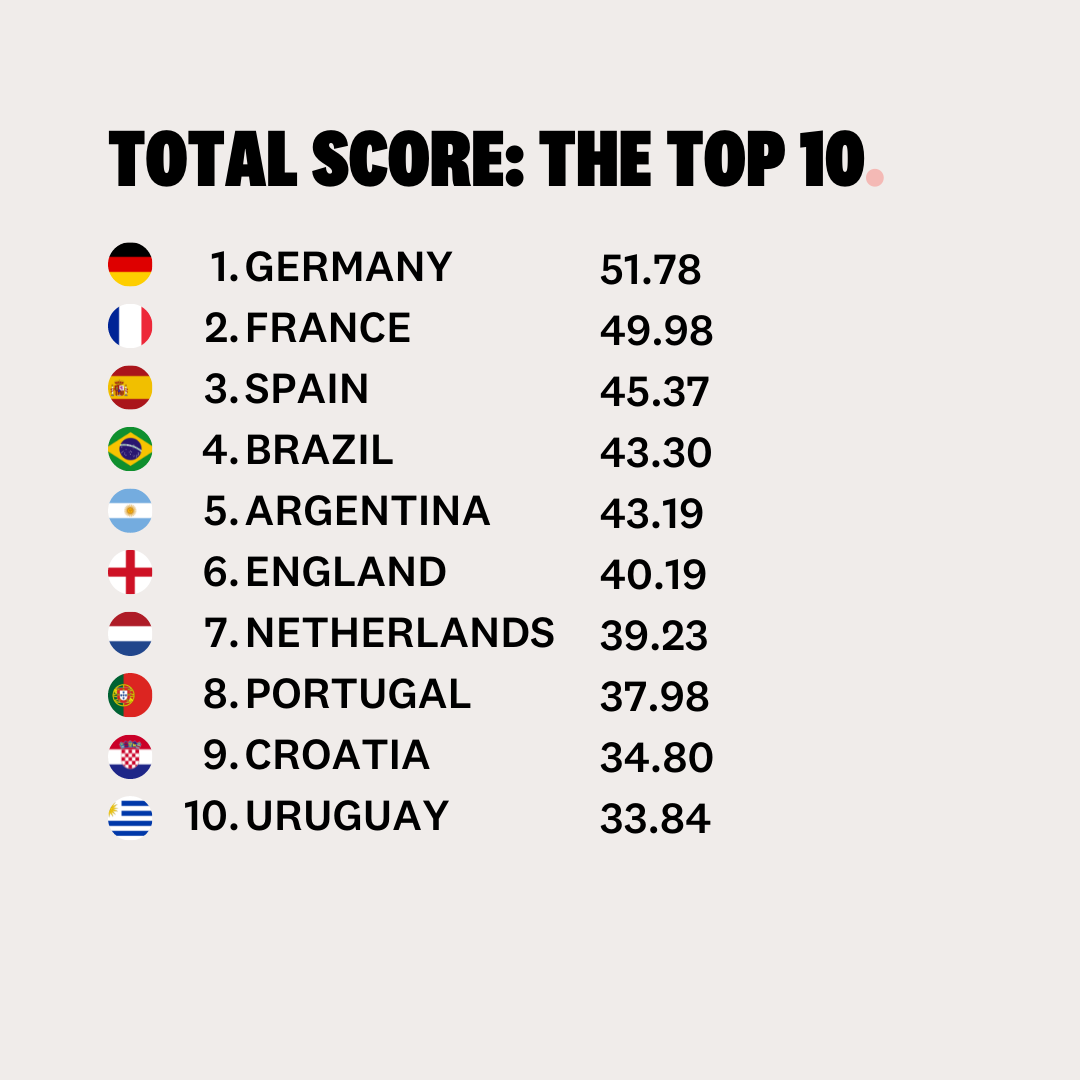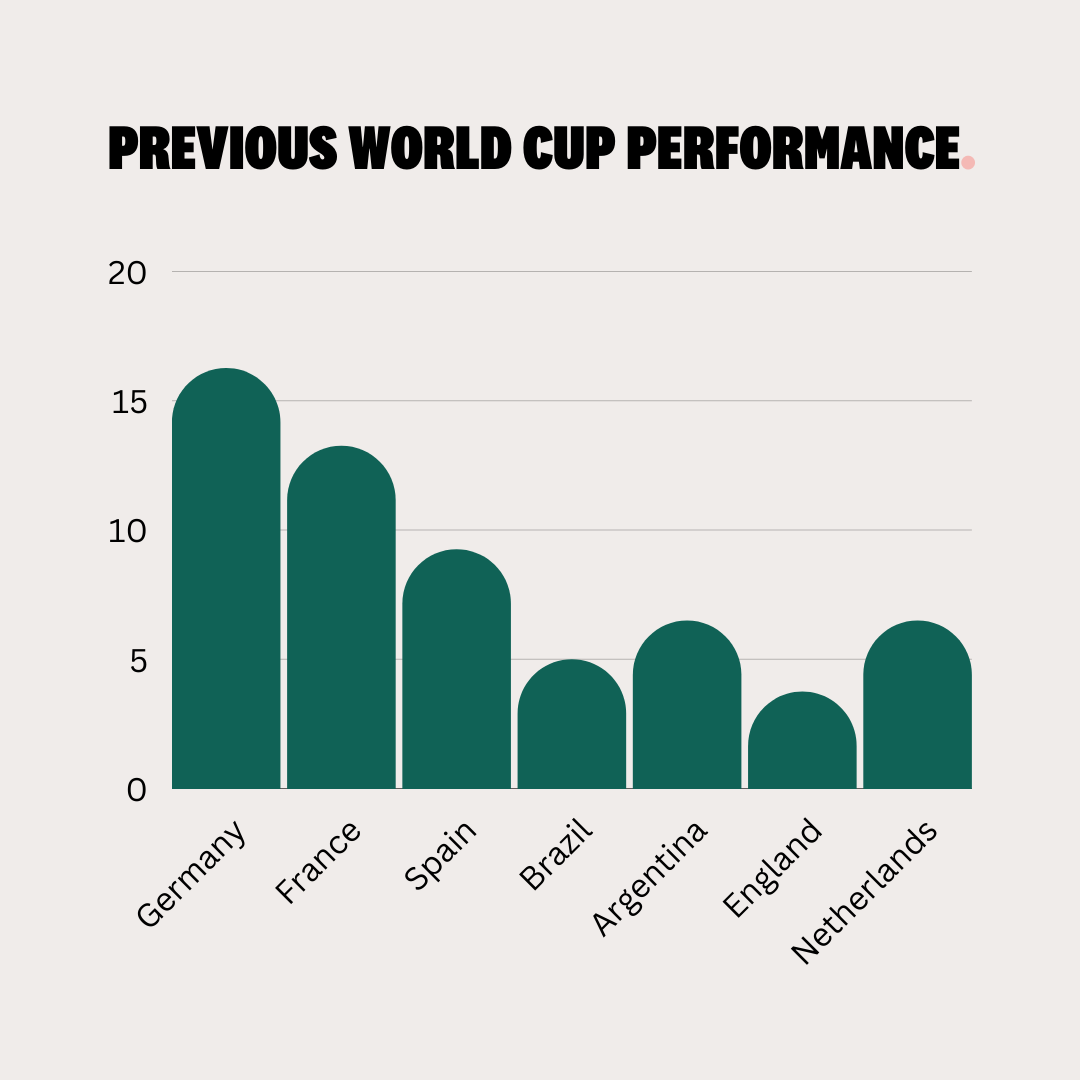 What did Dave say?
As well as asking the Insights Team to use data and a custom rationale to predict the outcome, we asked Senior Partnerships Manager, David Scriven what he thought would happen, going off good, old fashion gut instinct and football knowledge!
"It's going to be a bit of a strange World Cup given the time of year and also a number of high profile players could be missing. Initially a winter World Cup could have favoured the European sides whose domestic seasons were just underway and players fresh rather than tired at the end of a long campaign. However, there are a number of countries potentially missing key players through injury and that makes it quite hard to predict who could win this time round. The likes of France, Brazil, Argentina, Spain and Germany will always be highly fancied given their pedigree at big tournaments but all have question marks over player availability.
The form of Kevin De Bryne for Manchester City could give perennial dark horses (but underachievers) Belgium a chance but it feels like the best days of some of his teammates are behind them, whilst Senegal are an interesting prospect fresh from their African Cup of Nations win last year and you couldn't bet against Messi or Ronaldo having one Last Dance for the ultimate prize in world football before surely retiring.
Taking all that into consideration, it's coming home right? Come on England!"
THE YOUTUBE WORLD CUP
To round off our predictions, we also analysed the YouTube presence of some of the top qualifying teams, to see whether there's a correlation between winners and engaging content.
South Korea are the most prolific "goal scorers", with a total 7,642 videos posted on their channel, however they only managed 27k views per video on average. This is a huge contrast versus european football giants Germany, who boast an impressive 160,000 views per video - focussing on quality not quantity, with a total of just 629 videos on their channel.
If the World Cup was awarded based off online presence (which sadly it isn't) then It's Coming Home! With England driving an impressive 682m views from a staggering 2.03m subscribers. Only current World Cup holders France come close, with 626m views from just under 2m subscribers, well ahead of the chasing pack.
Brazil aren't quite able to capitalise on their football obsession, languishing around the 200m views mark, although an impressive posting of over 7k videos, should see them grow substantially in the future. Another country who are posed with an excellent opportunity are Mexico, who still have a relatively small channel with just 220 videos and 430k video views. There could certainly be a big chance for growth there during the world cup period, where content consumption will be at a peak, should they be able to slot it home.
The most subscribed to and most viewed teams on YouTube can be seen below: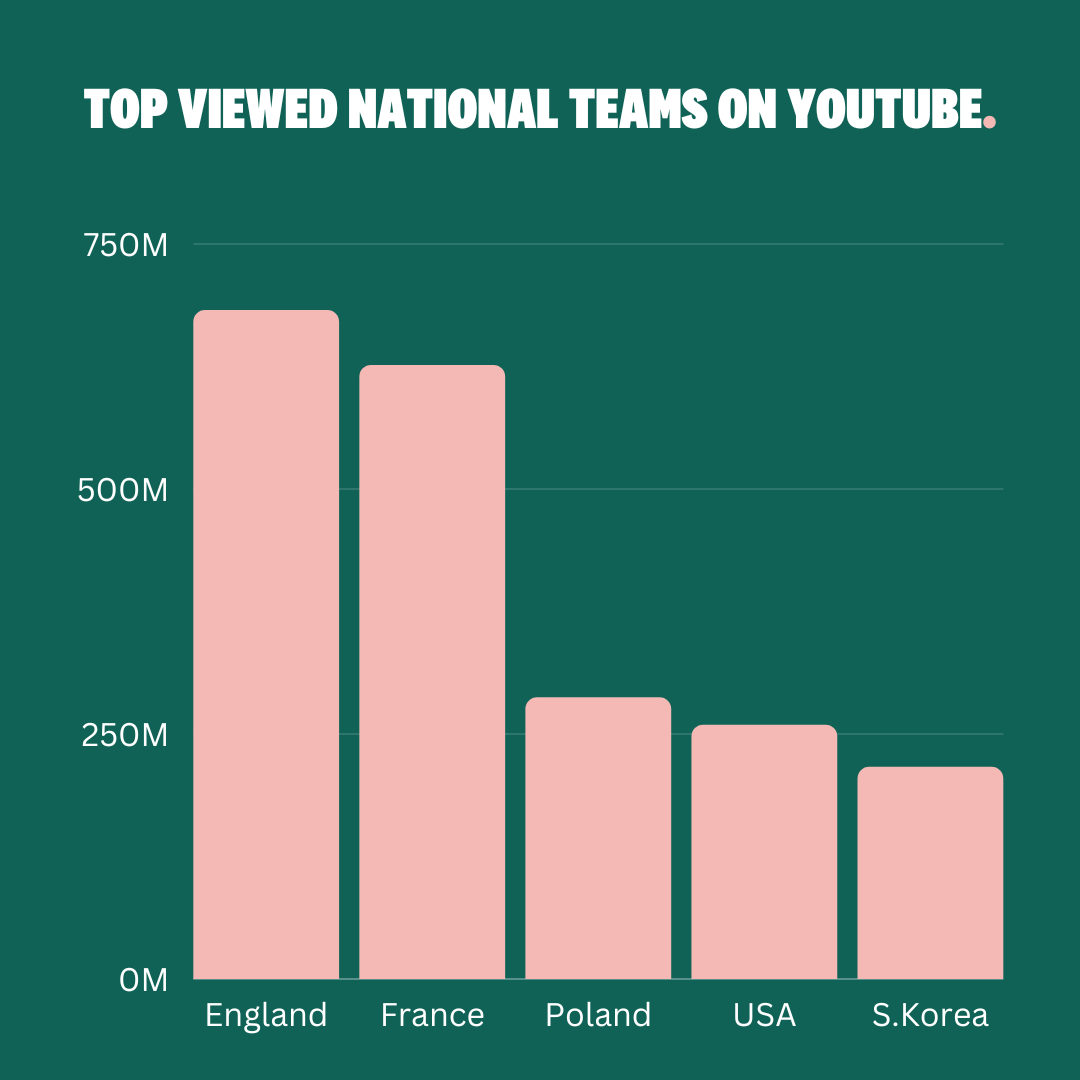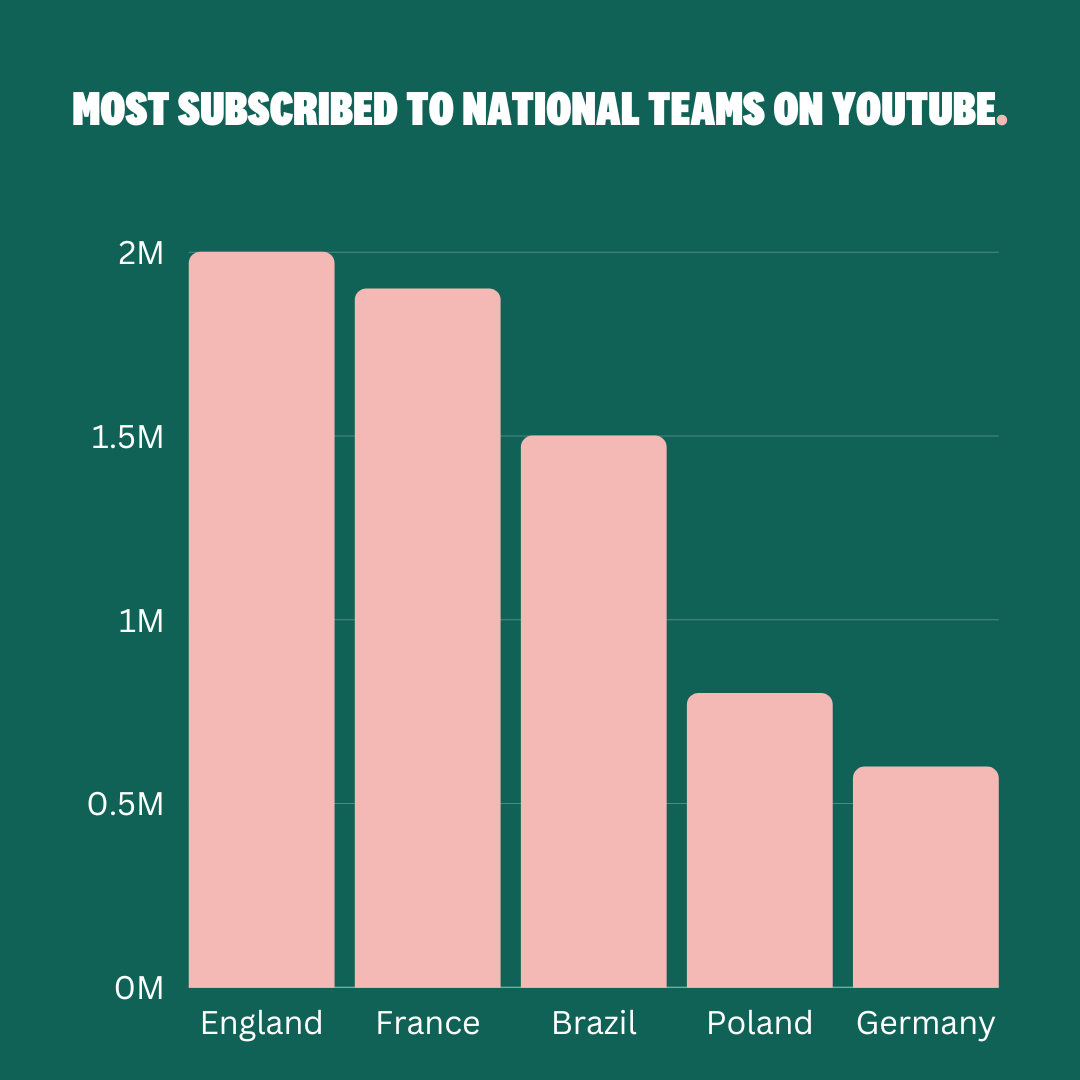 Conclusion
The insights team here at Little Dot Studios is full of talented individuals who are constantly finding new, creative ways to use data to make informed decisions for our clients. While our prediction of the 2022 World Cup does follow good logic, we make no claims to guaranteeing the result!
As we all know, unpredictability is a huge part of what makes professional football so exciting, and the World Cup is the biggest footballing stage of them all. It has a history of throwing unforgettable moments at us, whether it is Zidane's Headbutt, Diego Maradona's 'Hand of God' or Germany's shocking 7-1 victory over Brazil, we never know what we're going to get.
If you want to find out more about how we help brands unlock their full digital potential, be sure to visit our About Us page, or if you have an enquiry and want to reach out, visit our Contact Us page.