Case Study
Mercedes-AMG Petronas Formula One Team: Human and Machine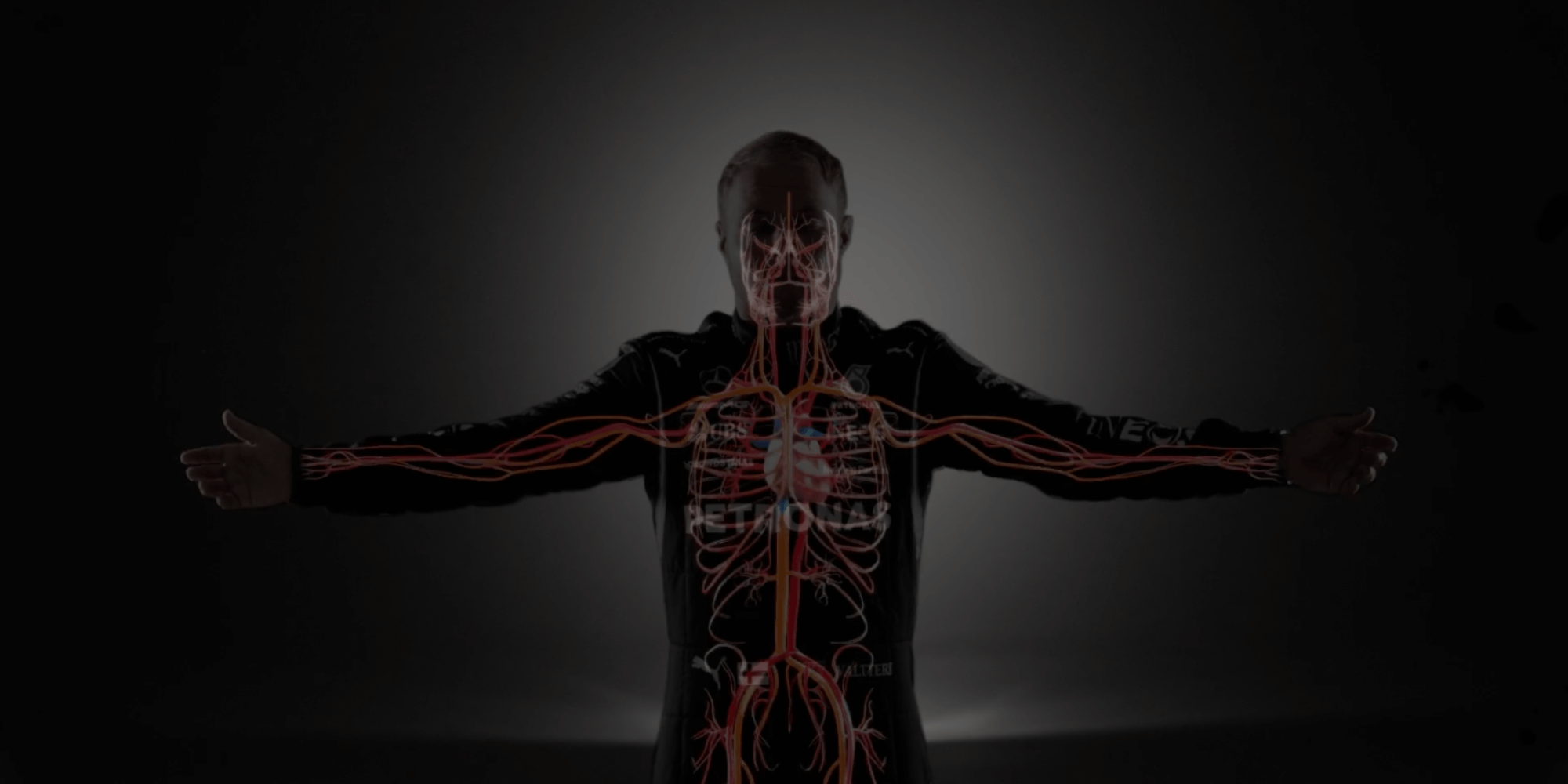 Created for the Mercedes-AMG Petronas Formula One Team, our three-part series 'Human &Machine' explores the similarities and relationship between driver and car within Formula One, andhow the two elements must come together as one to become the ultimate racing team.
The campaign's aim was to achieve maximum social reach, increasing brand exposure for Mercedes' Formula One's partners – specifically Petronas. It was targeted at the Formula One fan-base and community, whilst also appealing to 'curious' new Formula One social viewers, such as the huge new wave of fans created by Netflix's 'Drive to Survive'.
Challenges in production included very limited time with the drivers but ambition to create a standout 3 part film series rich in content. The creative solution was to produce a slick and eye-catching visual style that was unusual for the genre and talent involved. Our kinetic editing, picture in picture approach, ever-changing monotone and colour palette in the grade and clean but disruptive motion graphics alongside our choice of abstract allegorical cut-aways brought a highly stylised look that grabbed viewers' attention as they scrolled and made them click and view.
We then worked to create a staccato sound design across the music bed and sound fx extending to the interviewee's voices being synthesised for certain elements of the message that drove the pieces forward with real pace and energy whilst also allowing for the viewer to listen to and take in the meat of the campaign message.
With a variety of social specs, sizes and durations required we addressed this in pre-production by careful storyboarding – meaning we planned out exactly where these visual effects would take place ahead of time, giving our DoP, designers and editors.
Achievements and Successes
01
Over 6 million youtube views
On the Petronas channel with 1.4 million views on the first episode in a week (blowing Petronas' expectations out of the water as an account with just 20,000 subscribers).
02
Brand exposure
Across both Petronas and Mercedes' other social channels the series accumulated further millions of views, thus increasing brand exposure outside of the YouTube channel.
03
An overwhelmingly positive reaction
Comments such as: "The juxtaposition of mechanical fluids and human fluids is a touch of genius plus you have the two trackside fluid engineers narrating is amazing kudos to Petronas and Merc F1..." @Mc3BAL "The editors of this video need a raise! It's so good!." @formulawolff "What a fantastic video! Very well put together from start to finish. I LOVE THE INTENSITY OF IT!" @Marcy Deschamps Thibodeau.
04
Overcoming challenges
Human and Machine is the perfect case study to demonstrate how the talented WING London team can produce engaging and stand-out content within a very limited timeframe.
?autoplay=0&rel=0" frameborder="0" allowfullscreen allow="accelerometer; autoplay; clipboard-write; encrypted-media; gyroscope; picture-in-picture">