After recently celebrating his 3rd anniversary with History Hit, we caught up with Producer and Presenter Luke Tomes, who told us all about his journey to his current position, as well as some of the highlights of the previous 3 years.
Can you tell us a bit about yourself? Your career journey so far, your hobbies and interests, and about your life at Little Dot Studios/History Hit?
I work primarily on the History Hit YouTube channel across all facets of video production, presenting, script-writing, editing, and channel management.
Social, political and military history has sparked my fascination from an early age - my education and the career I have found myself in is a testament to this fact. I believe this interest stems from my inherently empathetic nature and desire to understand human emotions, actions and motivations.
You could almost call my passion for history an unhealthy obsession. I exclusively read non-fiction history books, my favourite genre of film is historical biopics, I travel mainly to see historic sites, I am a sucker for period dramas and I am a history documentary addict.
I genuinely do believe that there is something special about the documentary format as a form of public history. The ability to convey ideas about the past through the medium of an enthusiastic presenter, enlightening archive and stunning cinematography is an artform I knew I had to make a career out of.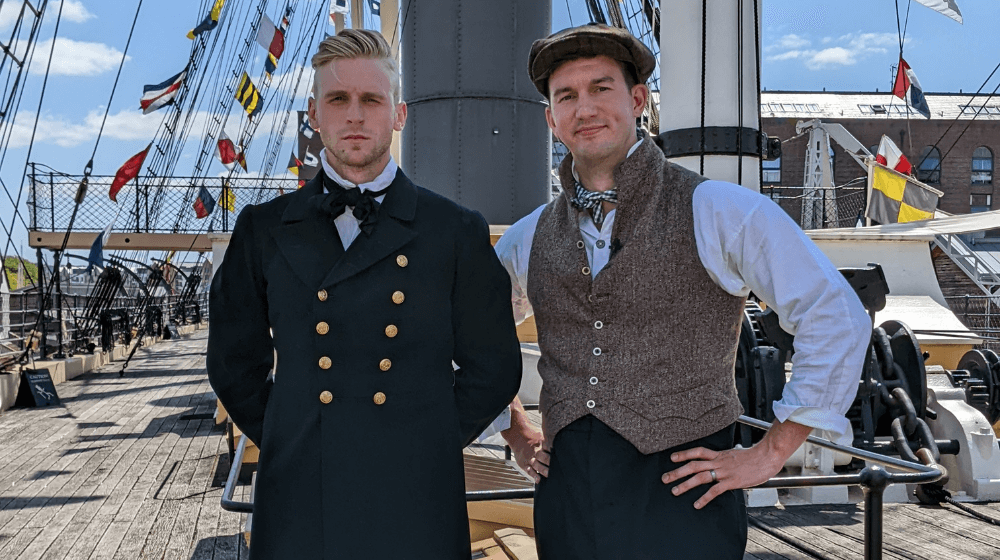 What does a typical day in your role look like?
Each day is never the same! Sometimes I'll be speaking to heritage sites about potential filming projects whilst editing one of our YouTube exclusive videos, and others I'll be firing weapons at a gun range or walking across Hadrian's Wall in Roman gear!
Filming on location is definitely the most enjoyable aspect of my role, but it is also, by far, the most challenging - things rarely go as planned so you have to be able to think on your feet and improvise when necessary.
More recently I have had the privilege of working with clients such as Sony Pictures Entertainment alongside History Hit's Commercial Director, Jen Bennett and Penguin Books. With the former, I directed and produced an interview with award-winning director Sir Ridley Scott on his new film 'Napoleon' and with the latter we promoted David Mitchell's new history book 'Unruly'. Working to deliver content in collaboration with entertainment and publishing companies is a new opportunity I have enjoyed immensely and learned from.
My bread and butter remains the production of high quality, well researched and written, entertaining documentaries. The highlight of my time here at History Hit has been the creation of my own living history challenge series on the YouTube channel ('Luke and Louee's Historic Challenges') which was so much fun to shoot and proved to be extremely popular with our audience!
Some quick fire questions for you now. How did you get into your current role?
At university, I produced a documentary series on the Abolition of Slavery in collaboration with the Humanities Department and the university's TV station (SUSUtv). I sent the series to History Hit (who were calling on amateur producers to send in their films during lockdown and put the documentaries on the sVOD site), and secured an interview through this process.
What is the most interesting or surprising thing you've learned working at History Hit?
The insight provided by those who have been in the field for decades is always fascinating. Learning about the process of presenting and producing TV documentaries I watched and loved growing up is a privilege one should never take for granted.
Any advice for someone looking to get into your field?
Be productive outside of your academic work (although this is equally important!). The way I secured a job at History Hit had little to do with what grades I achieved at school or university but rather through the countless hours I dedicated to producing my own documentaries.
Are there any upcoming projects we should be on the look out for?
Look out for all of our awesome content around the promotion of Ridley Scott's new Napoleon film starring Joaquin Phoenix and stay tuned next year for some more living history videos in the new year!
History Hit is reinventing the way in which history is shared and are always looking to find new ways in which to tell the extraordinary, tragic, dramatic and fascinating stories of our shared past.
Through hundreds of hours of documentaries, exclusive original films, interviews, articles and podcasts made for proper history fans, History Hit has content from all the multiple ages throughout history, spanning across the globe.