Learn how to leverage YouTube shorts to grow your brand's audience reach and engagement rates in this complete guide.
Attention spans are growing ever shorter and social media is increasingly packed with content for audiences to discover and engage with. Exploiting all available channels and content options is necessary for brands to meet their audiences where they are and get the most engagement possible for their content.
YouTube Shorts has quickly gained traction and presents a massive opportunity for brands to connect with their audience in a fresh, innovative way. There are various ways brands can harness the power of YouTube Shorts to amplify their marketing strategy, increase brand awareness, and foster a deeper connection with their audience.
What are YouTube Shorts?
YouTube Shorts are a feature on YouTube that allows creators and brands to create and share vertical, short-form videos up to 60 seconds in length. Launched in 2020, Shorts were developed as a response to the growing popularity of short-form video content on platforms like TikTok and Instagram Reels.
Shorts provide an opportunity for creators to reach new audiences, engage their existing subscribers, and potentially gain more visibility on the platform. Additionally, viewers can enjoy quick, entertaining content that's easy to consume on-the-go.
How long are YouTube Shorts?
YouTube Shorts can be up to 60 seconds in length. However, there is no minimum time requirement for the video format. Creators can make their Shorts as brief as they like, depending on the content and the desired impact. The key is to create engaging and easily consumable content within the allowed duration.
Are YouTube Shorts basically TikTok?
YouTube Shorts and TikTok do share similarities. Both platforms focus on short-form, vertical video content that is easily consumable and shareable. However, there are some differences between the two.
YouTube Shorts is a feature within the YouTube platform, while TikTok is a standalone app specifically designed for creating and sharing short videos. YouTube is primarily a platform for video sharing and consumption, with Shorts being just one aspect of it. On the other hand, TikTok is entirely dedicated to short-form content.
Both platforms offer creative tools like filters, music, text overlays, and speed controls. But the user experience and specific features vary. Also, the algorithms of the two platforms (including how content is surfaced to users) likely works in a similar way, but with differences that can impact best practices for uploading YouTube Shorts versus TikTok videos.
Benefits of Using YouTube Shorts
Short-form video content has quickly become the key to driving higher engagement rates across social media platforms. But to realise the full potential of this format, you need to know why it's worth your time.
01
Reach New Audiences
Shorts can help creators and brands tap into new audiences who prefer consuming short-form content. As YouTube's algorithm often promotes Shorts to users who haven't encountered your content before, it can lead to increased visibility and subscriber growth.
02
Engage Existing Subscribers
Creators and brands can use Shorts to engage with their current subscribers in a different format, sharing quick updates, behind-the-scenes footage, or bite-sized content that complements their longer videos and overall campaign goals.
03
Experiment With Content
Shorts provide a low-pressure environment for creators to experiment with new ideas, styles, or formats without investing significant time and resources into producing longer videos.
04
Easy Consumption
For viewers, Shorts offer easily consumable content that can be enjoyed on-the-go or during short breaks, providing quick entertainment and information. Since the content is easier to consume, brands are provided with an opportunity to capture the attention of a larger audience.
05
Enhanced Discoverability
YouTube promotes Shorts in various locations, such as the Shorts shelf on the homepage and within search results, which can increase the chances of discoverability for creators.
06
Cross-Promotion
Brands and creators can leverage their Shorts to cross-promote their other content or platforms, driving traffic and engagement across their entire online presence.
How Does Your Audience Access YouTube Shorts?
To make Shorts that grab your audience's attention, you need to know how and where they're going to see your content on the YouTube app. Here's how to access YouTube Shorts:
YouTube App
YouTube Shorts are primarily designed for mobile users. They are accessed by opening the YouTube app on a smartphone or tablet. Within the app, there is a dedicated "Shorts" tab at the bottom of the interface, which is typically between the "Explore" and "Subscriptions" tabs. Tapping on the Shorts tab will show users a feed of Shorts that you can watch and interact with.
YouTube Homepage
When browsing YouTube on a desktop or mobile device, you may come across the YouTube Shorts feed within the homepage. They will be labelled with the "Shorts" tag and appear in a vertical video format. Clicking or tapping on the video thumbnail plays the Short.

Search Results
When searching for content on YouTube, Shorts may appear in the search results along with other video content. They will be identified by the "Shorts" tag and the vertical video format.
Channel Pages
Some content creators and brands feature their YouTube Shorts on their channel pages. You can create a dedicated "Shorts" playlist or a section to feature this content on your channel.
Hashtags and Links
Sometimes, Shorts are shared through hashtags or direct links on social media platforms, websites, or messaging apps. Clicking on these links or hashtags will take users directly to the Short on YouTube.
Can You Hide YouTube Shorts?
Not really. On some older versions of the app, users can go into their settings and toggle Shorts off so they don't appear on their feed. The only other option is for users to continually click "Not Interested" on Shorts content until YouTube eventually stops delivering it to them.
How does the YouTube Shorts algorithm show content?
Like most tech platforms, how the YouTube algorithm works has not been made public. But the recommendation system on the platform provides some clues about how content is served.
Generally, YouTube takes a few different factors into consideration, including user watch history and ongoing engagement levels with a specific piece of content.
Metrics such as likes, comments, shares, and watch time can impact the visibility of a Short. Videos with higher engagement might be more likely to appear in users' Shorts feeds. The algorithm may also consider a user's viewing history, preferences, and interactions with similar content. Shorts that align with a viewer's interests and previous engagement may be more likely to show up in their feed.
How to Make and Upload YouTube Shorts
The
YouTube Shorts format
works in two ways when it comes to uploading content. You can record directly from the app, or upload pre-recorded content.
How to create YouTube Shorts directly in the app
1. Open the YouTube app on your smartphone or tablet.
2. Tap the "+" (plus) icon at the bottom of the screen.
3. Select "Create a Short" from the menu.
4. You can either record your video by holding the red record button or upload a pre-recorded video from your gallery by tapping the gallery icon.
5. If recording within the app, you can use features such as speed control, timer, filters, and the option to add music from YouTube's library.
6. Once you've recorded or selected your video, you can edit it using the in-app tools, such as trimming, adding text, and adjusting audio levels.
7. After editing, tap "Next" to proceed to the final screen.
8. Add a title (max. 100 characters), choose the visibility settings (public, unlisted, or private), and select a suitable audience (made for kids or not).
9. Tap "Upload" to publish your YouTube Short.
How to upload pre-recorded content to YouTube Shorts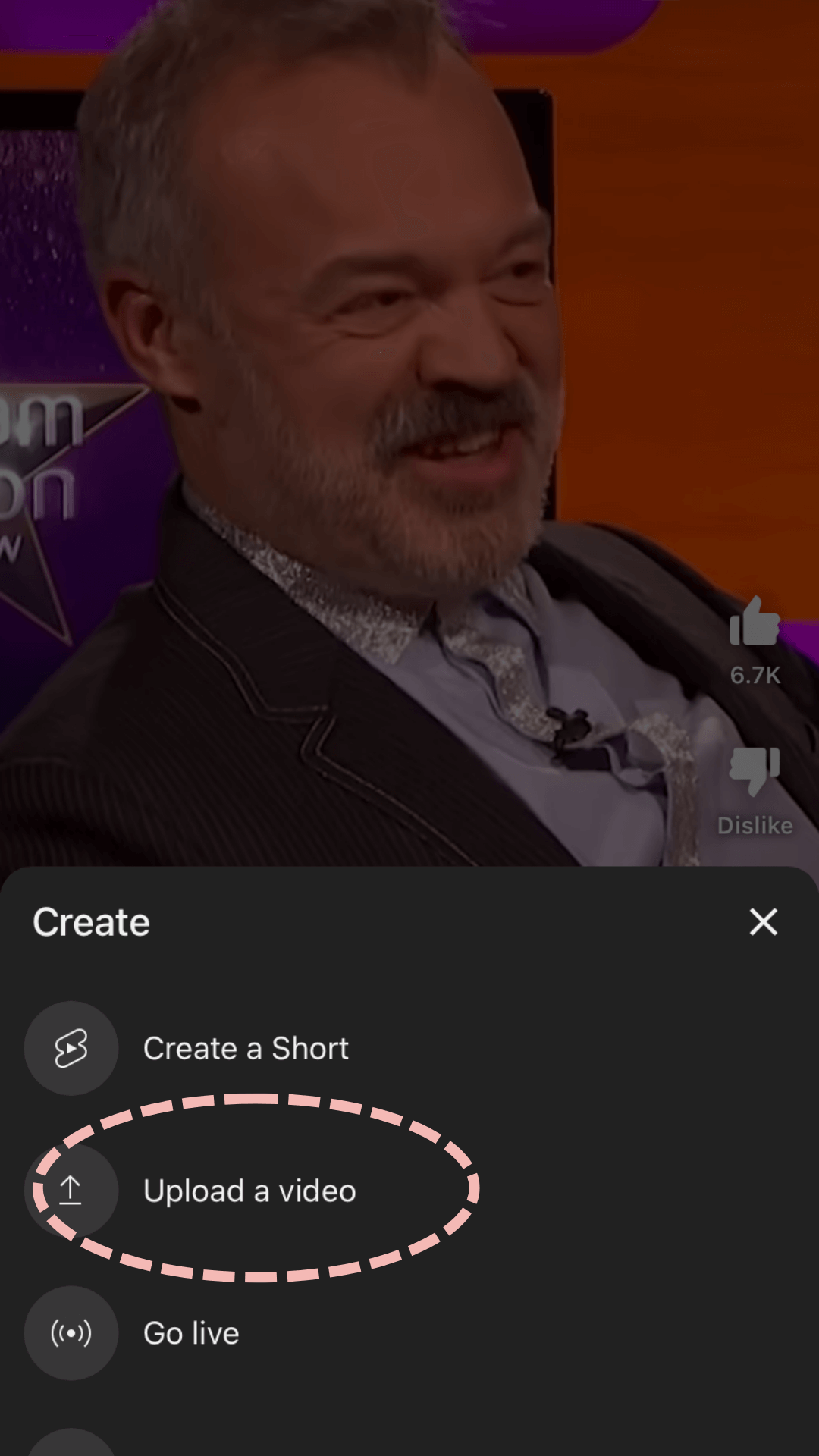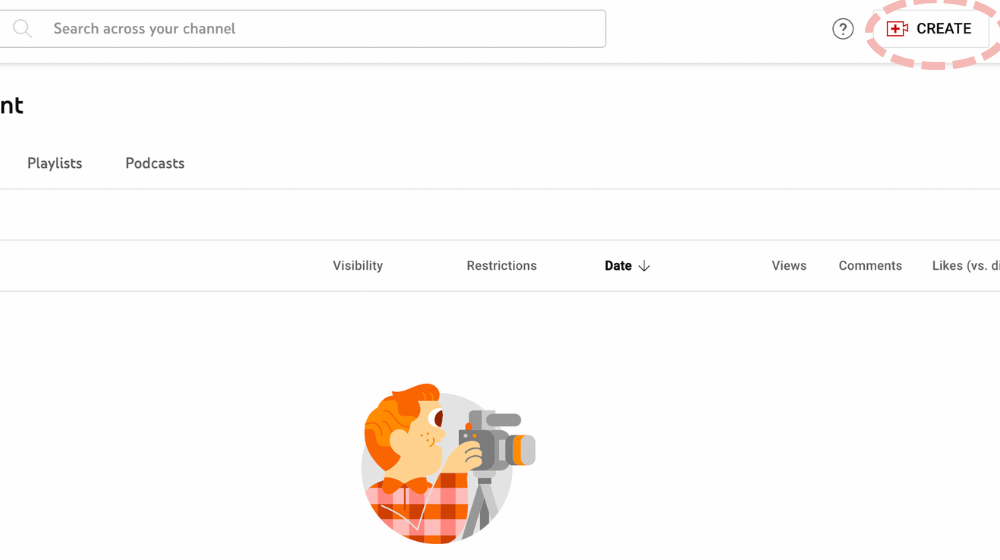 1. Record a vertical video using your smartphone, tablet, or other camera devices. Ensure the video has an aspect ratio of 9:16 (ideal for mobile viewing) and is under 60 seconds in length.
2. Edit your video using a video editing software or app of your choice, adding features such as text, filters, transitions, or music, if desired.
3. Once your video is ready, open the YouTube app or visit YouTube's website on your desktop or mobile device.
4. For the app: Tap the "+" (plus) icon at the bottom of the screen, and select "Upload a video."
5. For the website: Click the "Create" button (shaped like a video camera) at the top right corner, and select "Upload videos."
6. Choose the vertical video you want to upload as a Short from your device.
7. While the video is uploading, add a title (max. 100 characters), a description, and any relevant tags. To help the algorithm recognize your video as a Short, include the hashtag "#Shorts" in the description or title.
8. Set the visibility settings (public, unlisted, or private) and select a suitable audience (made for kids or not) according to the content of your video.
9. Choose a thumbnail for your video. You can either use one of the auto-generated thumbnails or upload a custom one.
10. Add the video to any relevant playlists or create a new playlist specifically for your Shorts.
11. If applicable, review and adjust the settings for monetization, end screens, and other advanced options.
12. Once all the details are set, click "Publish" or "Save" to finalise your upload.
13. Your Short will now be available on your channel and may appear in the Shorts section of the YouTube app or other users' feeds, depending on the algorithm and user preferences.
How to Use YouTube Shorts to Expand Your Reach
As any creator or marketer knows, producing top-notch content is only half the battle. Once your content is ready, you need strategies in place to ensure it reaches the maximum number of users in your target audience. Here are some ways to maximise the impact of your YouTube Shorts:
Showcase products or services
Shorts can be used to create quick product demos, tutorials, or showcase new product features or launches, making it easy for viewers to understand the value proposition and benefits.
Share behind-the-scenes (BTS) content
Brands can humanise themselves by sharing behind-the-scenes footage, interviews, or stories, helping to build a stronger connection with their audience.
Drive traffic to other content
Brands can use Shorts to cross-promote their other content, such as blog posts, long-form videos, or their website, driving traffic and potentially increasing conversions.
Collaborate with influencers
Brands can partner with influencers and creators to produce YouTube Shorts, leveraging their existing audience and credibility to promote their products or services.
Capitalise on trends and challenges
Brands can participate in popular trends, challenges, or memes on YouTube Shorts, showing their relevance and engaging with viewers in a fun and entertaining way.
Quick content production
Shorts can be created relatively quickly and with fewer resources compared to long-form videos, allowing brands to be more agile in their content production and respond to current events or trends.
YouTube Shorts ads
Using YouTube Shorts as paid media to expand your content's reach and engagement ensures your Shorts are amplified on the platform and more likely to reach your target audience.
Need an expert hand to guide strategy, production and amplification? Little Dot Studios is here to take your YouTube Shorts right to your audience. Get in touch!
YouTube Shorts Tips and Best Practices
Keep it Short and Engaging
YouTube Shorts are limited to 60 seconds or less, so focus on making your content concise and captivating. Hook viewers within the first few seconds to encourage them to watch YouTube Shorts in their entirety.
Only Use the Vertical Format
Since Shorts are optimised for mobile viewing, create your videos in a vertical format with a 9:16 aspect ratio.
Create High-Quality Content
Make sure your videos are visually appealing and have clear audio. Use a steady camera, good lighting, and choose background music or sounds that complement your content.
Be Creative
Explore different types of content like behind-the-scenes footage, tutorials, tips, challenges, and storytelling. Experiment with various formats and styles to find what resonates best with your audience.
Utilise In-App Features
Take advantage of the YouTube Shorts camera (if available in your country) and its features like speed control, timer, filters, and the music library to enhance your videos.
Optimise Titles and Descriptions
Create descriptive titles that accurately represent your content and are likely to capture viewers' attention. Include relevant keywords and hashtags, such as "#Shorts," in your video description to improve discoverability.
Leverage Trends
Stay up-to-date with current trends, challenges, and viral topics to create content that is timely and relevant. Participating in popular trends can boost your Shorts' visibility and engagement.
Be Consistent
Establish a consistent posting schedule to keep your audience engaged and looking forward to your next Short. This also helps build a more substantial library of Shorts for new viewers to discover and enjoy.
Include Clear Calls-to-Action (CTAs)
Encourage viewers to like, share, comment, and subscribe to your channel. Clear CTAs can help boost engagement and audience growth.
Engage With Your Audience
Respond to comments, answer questions, and interact with your viewers to build a strong community around your content.
Monitor Analytics Closely
Keep an eye on your YouTube Analytics to understand your audience's preferences, watch time, engagement, and other performance metrics. Use these insights to optimise your content strategy and improve the effectiveness of your Shorts.
Cross-Promote Your YouTube Shorts
Share your YouTube Shorts on other social media platforms or embed them in your blog or website to reach a wider audience and drive more traffic to your YouTube channel.
Create and Amplify YouTube Shorts That Drive Engagement
The success of YouTube Shorts depends on expertise from strategy and production, right through to publication and amplification. In 2022, we delivered over 24 billion views for our clients and partners for short-form, vertical video platforms - including YouTube Shorts.
Get in touch today to see how Little Dot Studios can partner with you to build stronger connections between your brand and audience by strategising, producing, distributing, amplifying, and monetising your vertical video content.